Research Activities
Internal Area

Process-oriented Learning and Knowledge Work
07. 09. 2006

The workshop discusses methods and learning technologies for process-oriented learning. Business needs are seen as key driver for learning and knowledge management. One future direction of technology-enhanced learning is therefore to integrate learning technologies into business platforms as well as combine it with competency management and formal/informal learning methodologies.

Within the workshop, the four projects PROLEARN, PROLIX, APOSDLE and TENCompetence - all co-funded by the European Commission and dealing with the above mentioned aspect from different perspectives - will present their actual activities and discuss with the podium how process-oriented learning solutions will be implemented in the future in enterprises as well as training institutions.

Please find here more infos.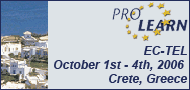 News
Workshop on Ubiquitous User Modeling (UbiqUM'06) [ read more ]
Knowledge Sharing in Research an Higher Education [ read more ]
I-KNOW 06 - 6th INTERNATIONAL CONFERENCE ON KNOWLEDGE MANAGEMENT [ read more ]
Process-oriented Learning and Knowledge Work - [ read more ]
Informal learning and digital media [ read more ]
[ more news & events ]
Search for learning objects