Research Activities
Internal Area

ePortfolio 2006 Oxford (UK)
11. 10. 2006
Fourth International ePortfolio Conference - "eStrategies for empowering learners"
This year's conference aims at exploring how the ePortfolio can contribute to the development of eStrategies for learning that result in empowered learners, providing them with greater control over their lifelong and lifewide learning journey.
The ePortfolio 2006 conference organisers have the pleasure to invite all policy makers, human resource managers, teachers, trainers, education managers, school heads, school administrators, ICT providers, and members of organisations promoting the use of ePortfolio to submit their contribution to the 4th International ePortfolio conference - Oxford, 11-13 October 2006. The main theme for the 2006 conference is: "eStrategies for Empowering Learners."
more information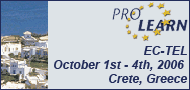 News
ePortfolio 2006 Oxford (UK) [ read more ]
mLearn 2006 [ read more ]
Research into online Distance Education and eLearning: Making the difference [ read more ]
First Latin American Conference on Learning Objects - LACLO 2006 [ read more ]
International Conference on LEARNING COMMUNITIES [ read more ]
[ more news & events ]
Search for learning objects