Research Activities
Internal Area

Registry for Professional Training Facts 06 open!
05. 08. 2006

The registration for the Professional Training Facts 2006 conference (15 November 2006) plus the attached workshops (Social software, "Arbeitsorientiertes Lernen", "Inno-Tanks") on the 14 November is open.

The conference will demonstrate how information and communication technologies are already used for professional training and give foresights and forecasts for upcoming IT solutions in this area.

The conference will focus on the issue of requirements, challenges, solutions, and experiences in the area of professional training. Speakers from companies as well as from research institutes and universities will show ideas shaping this field today and in future. Special themes of the conference will be: company requirements and challenges in professional training; upcoming ICT solutions for education; process-oriented learning and information exchange with the focus on embedding training into business and work.
  Register now for the conference!
Attachments: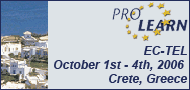 News
ePortfolio 2006 Oxford (UK) [ read more ]
mLearn 2006 [ read more ]
Research into online Distance Education and eLearning: Making the difference [ read more ]
First Latin American Conference on Learning Objects - LACLO 2006 [ read more ]
International Conference on LEARNING COMMUNITIES [ read more ]
[ more news & events ]
Search for learning objects