Research Activities
Internal Area

EADTU annual conference 2006, Tallin
23. 11. 2006

Main topic of this years conference is titled 'Widening Participation and Opportunities by Lifelong Open and Flexible Learning in Higher Education' - Promoting Accessibility and improving the Quality of Lifelong Open and Flexible Learning.

The conference will take place in Tallinn, Estonia on the 23rd and 24th of November 2006 and is hosted by EITF, the Estonian e-Univerity & Tallinn University.

Universities aim at increasing their attractiveness to
wider groups of students. This can only be achieved
on the basis of new approaches to each of these
groups.
Education has changed by the use of ICT. Students
are demanding an ICT environment. Open and flexible learning creates a new approach to the
attractiveness and competitiveness of European
universities. Within the next five years, universities will evolve dramatically in this respect.
EADTU invites the Higher Education community to
attend this event on:

• Open Educational Resources, Virtual Mobility
and academic cooperation
• Quality assurance in e-learning: new
benchmarking and assessment tools
• Responsive models of delivery: student
recruitment, assessment and the
changing role of study centres
• New business models and new funding
structures
• New target groups:
- profiling the lifelong learning student
- focus on minority groups

New results from substantial research and
development will be presented. Participants are
invited to contribute also from their expertise in the fields mentioned.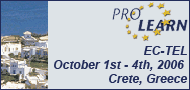 News
Research into online Distance Education and eLearning: Making the difference [ read more ]
First Latin American Conference on Learning Objects - LACLO 2006 [ read more ]
International Conference on LEARNING COMMUNITIES [ read more ]
Workshop on contextualized attention metadata (CAMA2006) [ read more ]
PROFESSIONAL TRAINING FACTS 2006 [ read more ]
[ more news & events ]
Search for learning objects