Research Activities
Internal Area

Sign up for our workshop at the IST!
15. 09. 2006

Prolearn has send in a proposal for organizing Networking Session on Professional Learning in Europe at the Helsinki Conference on the IST in Helsinki, on 21-23 November 2006.

For all those who would like to participate we strongly invite you to express your interest in our proposal, which aims to bring the researchers and political stakeholders together who are active in the area of technology enhanced (professional) learning to discuss the recent and emerging topics around professional learning. With the dawn of FP7, the topics discussed will provide a sound base for future co-operation in project proposals.
Since the workshop proposals are not fixed yet by the Commission, we ask all participants to contribute by posting at the end of following webpage http://europa.eu.int/information_society/istevent/2006/cf/network-detail.cfm?id=703 either:
an indication of your intention to attend;
a suggestion of your own contribution (this will be forwarded to us);
a comment on the Networking Session without attending the session(although you still can, of course).
The more contributions we receive, the better the chances our topic will be selected but also the better the session can be adapted to your interests.
As you will see the projects iCamp and PROLIX have already expressed their interest to join the proposed networking session, as well as contributions to the topics of 'IT-Certification' and 'Competence-orientated Professional Learning'.
For further information please contact who will lead the session.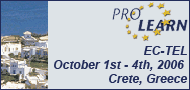 News
ePortfolio 2006 Oxford (UK) [ read more ]
mLearn 2006 [ read more ]
Research into online Distance Education and eLearning: Making the difference [ read more ]
First Latin American Conference on Learning Objects - LACLO 2006 [ read more ]
International Conference on LEARNING COMMUNITIES [ read more ]
[ more news & events ]
Search for learning objects