Research Activities
Internal Area

Online Educa Berlin – 10th conference
01. 12. 2004
The 10th Online Educa Berlin, the leading international conference on technology supported learning and training, highlights trends and developments in international
e-learning. Key subjects of this year's agenda are management and quality control,
e-learning in businesses and public institutions, virtual universities, interactive and collaborative e-learning environments, and more. The conference programme is now available at www.online-educa.com.
"Preparations for the 10th conference are going well. We have received a record number of proposals and participants can look forward to three days of inspiring sessions on up-to-date e-learning subjects", states Rebecca Stromeyer, Managing Director of ICWE. "This year's agenda will include highlights such as a focus on E-Learning in the Middle East and a plenary session on the Future of E-Learning which will focus on technology, strategies, content and the learner's perspective. Furthermore ICWE GmbH and SRI Consulting Business Intelligence (SRIC-BI), Canada, initiated a survey into outsourcing technology supported education and training. The results will be presented by Eilif Trondsen from SRI-BI in the plenary session Learning and Training Outsourcing."
This year's conference programme will also cover themes such as Content and Quality in E-Learning, Managing E-Learning Processes, E-Learning in Companies and Public Sector Organisations as well as Effective and Efficient E-Learning. Keynote speakers in this year's opening plenary on Thursday, December 2, 2004, will be Nancy DeViney, IBM Learning Solutions, USA, Robert Cailliau, CERN, Switzerland, and Prof. Stephen Heppell, Ultralab, UK.
ONLINE EDUCA BERLIN is the leading international conference and networking event on
e-learning. Participants value Online Educa Berlin as an excellent forum for networking. This year new features such as a Best Practice Showcase and an enlarged Demonstration track will allow participants to gain even more insight into new ideas and examples of courses and services. Online Educa Berlin also introduces an innovative feature, the Knowledge Café, which will provide further networking opportunities.
Online Educa Berlin will be accompanied by a parallel exhibition. Leading e-learning providers and developers, training providers, technical and service providers, publishers, public and national institutions, universities, and the European Commission, will all present their programmes, services and online learning offers .
Venue: Hotel InterContinental, Budapester Strasse 2, 10787 Berlin
Participation Fees: 750 €, second person 600 €, students 200 €, group rates available upon request
[http://www.online-educa.com Register
]
Contact: Eva-Maria Osiander, Tel.: +49-30-327 6140
E-Mail: [email protected]
Organizers: ICWE GmbH, Leibnizstrasse 32, D-10625 Berlin, Germany, www.icwe.net
Sponsors:IBM, Microsoft, BBC Worldwide, Cisco Sys., WebCT, Nahda University, Luvit, Horizon Wimba
Press
releases online
Attachments: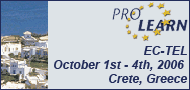 News
ePortfolio 2006 Oxford (UK) [ read more ]
mLearn 2006 [ read more ]
Research into online Distance Education and eLearning: Making the difference [ read more ]
First Latin American Conference on Learning Objects - LACLO 2006 [ read more ]
International Conference on LEARNING COMMUNITIES [ read more ]
[ more news & events ]
Search for learning objects