Research Activities
Internal Area

1. PROLEARN thematic workshop on technology enhanced learning for learning organisations (4./5. November 2004, Hannover, Germany)
04. 11. 2004
Following the PROLEARN General Assembly, this 2-day thematic workshop will bring together speakers and participants from all FP5 and FP6 EU/IST projects on technology enhanced learning, from companies sucessfully supporting or employing technology enhanced learning (including IMC AG, IBM, Microsoft, Volkswagen, and others), as well as EC/IST representatives.
The workshop will enhance cooperation and integration between the important actors involved in European research and application of technology enhanced learning, inform about funding possibilities and facilitate EU/IST project proposals for the upcoming EU/IST calls, and provide input for a roadmap highlighting the important research and application areas in technology enhanced learning for the next four years.
The workshop will take place right after the PROLEARN General Assembly on November 4 and 5, 2004, at the Radisson SAS Hotel and the L3S Research Center, Expo Plaza, Hannover, Germany.
We are looking forward to see you here in Hannover. As soon as further information (e.g. in respect to the registration) become available they will posted here.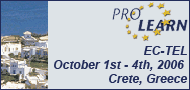 News
ePortfolio 2006 Oxford (UK) [ read more ]
mLearn 2006 [ read more ]
Research into online Distance Education and eLearning: Making the difference [ read more ]
First Latin American Conference on Learning Objects - LACLO 2006 [ read more ]
International Conference on LEARNING COMMUNITIES [ read more ]
[ more news & events ]
Search for learning objects