Research Activities
Internal Area

PROLEARN WP3 Workshop, November, 5, 2004: "Integrating European research in online experiments" - registration open
05. 11. 2004
Workshop: "Integrating European research in online experiments"
This is a one day workshop of the PROLEARN work package Online Experiments in Hannover, Germany, November 5, 2004. It will bring together current and prospective work package partners to present their work and to put it into a European perspective.
The workshop will be a good opportunity to get to know people and activities in our work package, especially for those interested in becoming associated partners. The presenters list is fixed now and registration is open to everybody interested in our work. Due to space restrictions and the networking nature of the event number of participants is limited, so early registration is recommended.
Registration is open until October, 15th.
More information on the workshop
Looking forward to meet you in Hannover!
Nils Faltin, co-leader WP Online Experiments
About the Work Package Online Experiments

Online Experiments are remotely controlled experiment equipment or software simulations of real experiments built for learning purposes. They enable students and professional learners to get hands-on experience without the need to leave their workplace to go to a traditional local laboratory. Measuring and manipulating real or virtual objects in experiments is common in many disciplines, for example in science, engineering, technical education, medicine and economics. Compared with local experiments, remote and virtual experiments open the potential for flexible learning in time and place, access to a large number of experiments and cost savings through experiment sharing.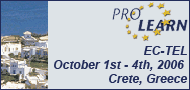 News
ePortfolio 2006 Oxford (UK) [ read more ]
mLearn 2006 [ read more ]
Research into online Distance Education and eLearning: Making the difference [ read more ]
First Latin American Conference on Learning Objects - LACLO 2006 [ read more ]
International Conference on LEARNING COMMUNITIES [ read more ]
[ more news & events ]
Search for learning objects