Research Activities
Internal Area

PROLEARN: Transforming Technology Enhanced Learning - The PROLEARN session at Learntec 2005

15. 02. 2005
Martin Wolpers will chair the session with the title "PROLEARN: Transforming Technology Enhanced Learning" at Learntec fair 2005 in Karlsruhe, Germany on February 15-18, 2005.
The session will give try to answer the question where technology enhanced professional learning will move within the next couple of years. We put together a programme including speakers from research and industry thus covering perspectives from both sides:
Learning Objects: Grand Research Challenges
Erik Duval, Ariadne Foundation and K. U. Leuven
Katholieke Universiteit Leuven
Personalized and Contextualized Working and Learning
Matthias Jarke and Marcus Specht, Fraunhofer Ges. FIT
Innovative tools for face-to-face scenarios: interactive lectures and digital moderation
Peter Dawabi and Martin Wessner, Fraunhofer Ges. IPSI
eLearning 2005: Business Indicators and Market Drivers
Guido Grohmann and Gunnar Martin
Inst. für Wirtschafsinformatik/DFKI
Technology Enhanced Learning from the viewpoint of an eductional publisher
Jürgen Schmidt, Ernst Klett Verlag GmbH
A panel will conclude the session summarizing and extending the view on technology enhanced professional learning.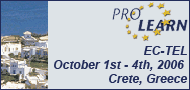 News
ePortfolio 2006 Oxford (UK) [ read more ]
mLearn 2006 [ read more ]
Research into online Distance Education and eLearning: Making the difference [ read more ]
First Latin American Conference on Learning Objects - LACLO 2006 [ read more ]
International Conference on LEARNING COMMUNITIES [ read more ]
[ more news & events ]
Search for learning objects