Research Activities
Internal Area

UMí05 - PROLEARN Workshop Session "Personalized Adaptive Learning on the Semantic Web"
26. 07. 2005
The goal of this workshop session is two fold. We aim at disseminating the current results and the ideas developed within the context of the EU Prolearn Network of Excellence and in the same time to gather answers from a wider community to the critical open questions with respect to exploring various aspects of adaptivity and personalization in the context of professional training and learning. This workshop will allow us to bring together researchers from various research communities and to share their experience in different aspects of eLearning. The workshop proposal follows several successful Prolearn activities at relevant conferences and research events.
PROLEARN is also providing student support for representatives of PROLEARN associated partners, who can apply for travel grants. Several travel grants will be provided to these partners according to their contributions to the associated workshop. Interested students should apply directly to the workshop organisers.
Contact Milos Kravcik ([email protected]) for more application information.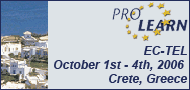 News
ePortfolio 2006 Oxford (UK) [ read more ]
mLearn 2006 [ read more ]
Research into online Distance Education and eLearning: Making the difference [ read more ]
First Latin American Conference on Learning Objects - LACLO 2006 [ read more ]
International Conference on LEARNING COMMUNITIES [ read more ]
[ more news & events ]
Search for learning objects