Research Activities
Internal Area

2nd International SCIL Congress - St. Gallen (Switzerland)
11. 10. 2005
2nd Conferenz of the Swiss Centre for Innovations in Learning at the Universität St. Gallen:
From eLearning to Educational Innovations: a Strategic Callenge Designing Learning Organisations
Understanding eLearning as a strategic challenge for the academic and corporate world – addresses the change that continues to occur in educational institutions, the role that information technology plays in the transformation, the day-to-day realities of making it happen, and the dreams that we all have about the use of technology to enable the learning and teaching experience and to enrich the lives of learners.Some key questions we will discuss with international learning professionals from different fields are: What is the future role of educational management professionals, service centres, business partners, learning architects? How to support the transformation by involving the necessary stakeholders? How to build a learning and an eLearning culture for generating not just short-term successful e-learning, but sustainable e-learning? How to design the learning organisation where eLearning represents an innovation as a strategic challenge for long-lasting competitive advantages?
http://www.scil.ch/congress-2005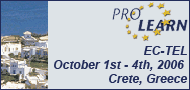 News
ePortfolio 2006 Oxford (UK) [ read more ]
mLearn 2006 [ read more ]
Research into online Distance Education and eLearning: Making the difference [ read more ]
First Latin American Conference on Learning Objects - LACLO 2006 [ read more ]
International Conference on LEARNING COMMUNITIES [ read more ]
[ more news & events ]
Search for learning objects