Research Activities
Internal Area

PROLEARN Online Experiments workshop 2005 call for participation
28. 09. 2005
Towards a common technical framework for online experiments

Workshop homepage
Location and date
The workshop will be in Villach, Austria, Sept, 28, 9:00-17:00. A work package meeting will be 19:00-20:30 the same day. It is attached to the ICL 2005 conference, which has its main days on Sept 29-30. In the meantime also some conference talks are scheduled for Sept 28 afternoon.
Audience
All ICL conference participants are welcome to the workshop. Most presenters are members of the European PROLEARN project on technology enhanced learning, work package Online Experiments. They welcome discussions with the larger E-Learning community of researchers and practicioners.
Motivation and previous work package activities
Many online experiments have been developed in pilot projects during the last years. But most of them were developed from scratch, as there was no common technical framework to build an online experiment with a set of standard components. One of our main goals in PROLEARN work package Online Experiments is to work towards a common specification of such a technical framework. When an agreement among experienced European experiment researchers and developers can be reached on the technical framework, chances are good that it will become widely used. Then future experiment developments will be aligned with the framework, and components developed for a new experiment can be reused for other experiments. Such reuse not only reduces development time and effort but will in general also lead to higher quality online experiment systems, when high quality components become available.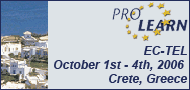 News
ePortfolio 2006 Oxford (UK) [ read more ]
mLearn 2006 [ read more ]
Research into online Distance Education and eLearning: Making the difference [ read more ]
First Latin American Conference on Learning Objects - LACLO 2006 [ read more ]
International Conference on LEARNING COMMUNITIES [ read more ]
[ more news & events ]
Search for learning objects