Research Activities
Internal Area

Learning Technologies 2006; Olympia 2, London (UK)
25. 01. 2006
Learning Technologies is Europe's leading learning and skills conference and exhibition, covering every aspect of organisational learning and learning technology.
The annual gathering of expert speakers and key industry figures has quickly established the Learning Technologies conference as the number one thought-leadership event for business, HR, IT and training professionals responsible for managing organisational learning.The conference is about taking training seriously, and taking it forward. That means widening the role of learning and development professionals and expanding their responsibility and credibility.
The conference will examine how to partner with business to do this, and prove above all, the value of learning and skills to modern organisations.
http://www.learningtechnologies.co.uk/conference/conference.cfm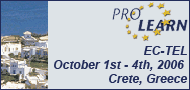 News
ePortfolio 2006 Oxford (UK) [ read more ]
mLearn 2006 [ read more ]
Research into online Distance Education and eLearning: Making the difference [ read more ]
First Latin American Conference on Learning Objects - LACLO 2006 [ read more ]
International Conference on LEARNING COMMUNITIES [ read more ]
[ more news & events ]
Search for learning objects