Research Activities
Internal Area

SELEAC Final seminar
02. 12. 2005
SELEAC Final seminar, London, December 2, 2005
Communities as developers of eLearning content
London College of Communication (formerly the London College of Printing) Elephant and Castle, London, UK
December 2, 2005
The event will give an opportunity to hear about communities as content creators and the expreriences and solutions that the SELEAC project has produced.
The seminar is aimed at anyone who is interested in developing eLearning content in collaborative and modular fashion. The SELEAC project is creating such a community for the graphic and media communications sector. The seminar also wants to give insights into the development trends in eLearning and media technology. The seminar is of particular interest to educational institutes and organisations active in the graphic and media technology sector, but it is also of interest to outside this sector.
The seminar fee is 100 €.
Programme:
Keynote: Future Trends in Professional Learning: The PROLEARN Approach, Dr. Ralf Klamma, Rheinisch-Westfälische Technische Hochschule RWTH Aachen, Germany
Developing the Community of Sharing, Ms Amber Thomas Project Leader, WM-Share University of Worcester, UK
Future trends in media technology and how they can benefit eLearning applications, Professor Caj Södergård, VTT Information technology, Finland
What is the SELEAC community like. Experiences of a new SELEAC community member, Mr. Vesa Iltola Jyväskylä Vocational Institute, Technology College, Finland
OWL Net - A community for training older workers
SELEAC portal and content demonstration
Content creation guidelines and content evaluation - lessons learned and best practices in SELEAC, Ms. Karin Hamann, Fraunhofer-Institut Arbeitswirtschaft und Organisation, Germany
Experiences of different ways of creating eLearning content within SELEAC
How to join the SELEAC community
Email to Asta Bäck , if you want more information on the seminar.
You can register for the event here.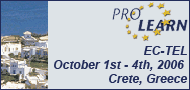 News
ePortfolio 2006 Oxford (UK) [ read more ]
mLearn 2006 [ read more ]
Research into online Distance Education and eLearning: Making the difference [ read more ]
First Latin American Conference on Learning Objects - LACLO 2006 [ read more ]
International Conference on LEARNING COMMUNITIES [ read more ]
[ more news & events ]
Search for learning objects