Research Activities
Internal Area

CEN/ISSS Workshop on Learning Technologies
02. 02. 2006
The next meeting of the CEN/ISSS Workshop on Learning Technologies (http://www.cenorm.be/isss/Workshop/lt/) will take place on Thursday, February 2, 2006.

The next day, we are organizing two half-day workshops, one on Quality and another one Grand Research Challenges for Learning Objects, Metadata and Interoperability.

The Katholieke Universiteit Leuven hosts the meetings at the
Departement Computerwetenschappen, Celestijnenlaan 200 A, B3001 Heverlee.
More information about the venue is available at http://www.cs.kuleuven.be/. Information about "how to get there" is here.

In order to deal with the logistics involved, we would appreciate an email to if you will be participating. We will provide sandwiches and coffee on both events – lunch will be around 10 euro per lunch per person, to be paid in cash at the event.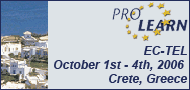 News
ePortfolio 2006 Oxford (UK) [ read more ]
mLearn 2006 [ read more ]
Research into online Distance Education and eLearning: Making the difference [ read more ]
First Latin American Conference on Learning Objects - LACLO 2006 [ read more ]
International Conference on LEARNING COMMUNITIES [ read more ]
[ more news & events ]
Search for learning objects