Research Activities
Internal Area

Workshop on Ubiquitous User Modeling (UbiqUM'06)
28. 08. 2006
Call for papers in conjunction with ECAI-2006 http://u2m.org/ubiqum2006
August 28th, Riva del Garda, Italy
General Information:
--------------------
Ubiquitous user modeling describes ongoing modeling and exploitation
of user behaviour with a variety of systems that share their user models.
The goal of this workshop is to bring together academic and industrial
researchers from the communities of user modeling and ubiquitous
computing to discuss the most innovative approaches to ubiquitous user
modeling, to enhance the exchange of ideas and concepts, to determine
the veins the research should proceed, and to go one step further
towards personalization in ubiquitous computing and to enable ongoing
model sharing.
Topics of Interest:
-------------------
Ubiquitous user modeling implies new challenges of scalability,
scrutability and privacy. Furthermore, new issues of decentralization,
communication and integration have to be addressed. The topics of
interest include, but are not limited to:
* User modeling in mobile and ubiquitous computing
* Distributed and externalized user modeling
* Integrated reasoning and inferences with user and context models
* Spatial and temporal reasoning for ubiquitous user modeling
* Construction and acquisition of distributed user models
* Conflict resolution for ubiquitous user modeling
* User modeling in intelligent environments like smart homes or smart cars
* Semantic Web approaches and ontologies for distributed user modeling
* Ubiquitous user modeling for entertainment and cultural heritage
* Personalized user interfaces in pervasive computing
* Privacy, security and trust in ubiquitous user modeling
Furthermore, the interoperability of applications like recommender systems,
adaptive hypermedia, e-learning, adaptive navigation guides or personalized
shopping guides is of special interest.
Submission Guidelines:
----------------------
Full papers with up to 6 pages and short papers with up to 3 pages are
accepted for the UbiqUM workshop. The style files can be found at our
webpage, where the submission process is described in detail.
Important Dates:
----------------
* Paper submission deadline: April 10th, 2006
* Notification of acceptance: May 10th, 2006
* Final papers due: May 24th, 2006
* UbiqUM 2006 workshop: August 28th, 2006
Organizing Committee:
---------------------
Shlomo Berkovsky - University of Haifa, Israel
Dominik Heckmann - DFKI GmbH, Germany
Antonio Krüger - University of Münster, Germany
Tsvika Kuflik - University of Haifa, Israel
Program Committee:
------------------
Liliana Ardissono, Italy
Jörg Baus, Germany
Boris Brandherm, Germany
Peter Brusilovsky, USA
Francesca Carmagnola, Italy
Nadja De Carolis, Italy
Vania Dimitrova, UK
Peter Dolog, Germany
Yaniv Eytani, USA
Tatiana Gavrilova, Russia
Cristina Gena, Italy
Dina Goren-Bar, Israel
Nicola Henze, Germany
Judy Kay, Australia
Alexander Kröner, Germany
Andreas Lorenz, Germany
Gordon McCalla, Canada
Marcin Paprzycki, Poland
Francesco Ricci, Italy
Andreas Schmidt, Germany
Ilaria Torre, Italy
Julita Vassileva, Canada
Stephan Weibelzahl, Ireland
Ingrid Zukerman, Australia
Further Information:
--------------------
* Webpage: http://u2m.org/ubiqum2006
* Contact: [email protected]
* ECAI: http://ecai2006.itc.it
* Venue: Riva del Garda, Italy
information provided by Peter Dolog, L3S - email: 8 February 2006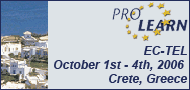 News
ePortfolio 2006 Oxford (UK) [ read more ]
mLearn 2006 [ read more ]
Research into online Distance Education and eLearning: Making the difference [ read more ]
First Latin American Conference on Learning Objects - LACLO 2006 [ read more ]
International Conference on LEARNING COMMUNITIES [ read more ]
[ more news & events ]
Search for learning objects