Research Activities
Internal Area

Workshop on contextualized attention metadata (CAMA2006)
11. 11. 2006
International ACM Workshop on Contextualized Attention Metadata:
Collecting, Managing and Exploiting Rich Usage Information (CAMA 2006)
In conjunction with
ACM 15th Conference on Information and Knowledge Management (CIKM 2006)
In cooperation with ACM SIGMOD
Sponsored by ACM SIGIR
November 11, 2006, Arlington, VA 22202 USA
Submission Deadline: July 4, 2006
Conference and workshop proceedings will be published by the ACM.
Workshop Theme

Providing flexible efficient access to relevant information remains a challenge. Approaches based on attention metadata present novel opportunities to deal with this challenge. Attention metadata indicate what end users do with specific information objects. End user applications (authoring tools, search tools, repositories, email applications, blogs and wikis) can generate attention metadata. Collecting, managing, merging, analyzing and exchanging these distributed metadata enables smart tools to exploit data about user experiences with heterogeneous tools for more flexible user information interaction, while respecting user privacy. For instance, users of one application can be recommended relevant material, based on their attention given to information that they have interacted with in other applications.

This workshop intends to bring together researchers from the relevant fields, so as to discuss recent advances and identify future challenges. Facilitating the usage of contextualized attention metadata is a cross-disciplinary research topic that combines research results and challenges from communities including databases, information retrieval, knowledge representation, knowledge management, user modeling, recommender systems, learning technologies, etc. The workshop will enable researchers from distinct domains to create strong collaboration links that will enable future exchange of ideas and sharing of research results. More importantly, this workshop will enable researchers working on related research topics to build joint research initiatives.
Topics of interest include, but are not limited to:


Attention Metadata collection frameworks,

Management of large volumes of attention metadata,

Real-Time stream based attention metadata processing,

Methods and algorithms for analysis of attention metadata,

Log Analysis in databases and web applications,

Information mining in attention metadata streams,

Information extraction in attention metadata streams,

Privacy and Security,

Personal Information Management,

Representation of attention metadata,

Attention metadata services,

Applications of attention metadata streams,

Merging of attention metadata streams

Paper Submission

Authors are invited to submit original unpublished research as full papers (8 pages), or work-in-progress as short papers (max. 4 pages).
All submitted papers will be peer-reviewed by at least three members of the program committee for originality, significance, clarity and quality. Accepted papers will appear in the proceedings published by ACM press. Accepted papers will be fast-tracked for a special issue of a scientific journal.

Manuscripts should be formatted using the
ACM camera-ready templates and following the
instructions for camera-ready formatting.

All submissions should be sent to

At least one author of each paper must register on the CIKM 2006 conference website to present the paper at the workshop if accepted for publication.
Important Dates


Deadline for paper submission: July 4, 2006

Notification of acceptance: August 15, 2006

Camera ready copy due: August 29, 2006

Workshop date: November 11, 2006

Workshop format

The workshop will be strongly discussion oriented. To that effect, all accepted papers will be made available three weeks before the workshop and the presentations of the papers will be short.

Presenters will be asked to focus more on comparison with related work presented by others
and demonstration of early prototypes, so as to take maximum advantage of the added value of a face-to-face meeting.
Organizers and Program Co-Chairs


Erik Duval, Katholieke Universiteit Leuven, Belgium & ARIADNE Foundation ([email protected])

Jehad Najjar, Katholieke Universiteit Leuven, Belgium ([email protected])

Martin Wolpers, L3S Research Center & K.U.Leuven, Germany and Belgium ([email protected])

Program Committee


Wolf-Tilo Balke, L3S Research Center, Germany

Paul De Bra, Technical University Eindhoven, Netherlands

Julien Broisin, Universit? Paul Sabatier - IUTA, France

Stefano Ceri, Politecnico di Milano, Italy

Xavier Ochoa Chehab, Escuela Superior Politecnica del Litoral, Ecuador

Vladan Devedzic, University of Belgrade, Serbia and Montenegro

Erik Duval, Katholieke Universiteit Leuven, Belgium

Dragan Gacevic, Simon Frasier University, Canada

Marek Hatala, Simon Frasier University, Canada

Wayne Hodgins, Autodesk Inc, USA

Ralf Klamma, RWTH Aachen, Germany

Jehad Najjar, Katholieke Universiteit Leuven, Belgium

Wolfgang Nejdl, L3S Research Center, Germany

Dan Rehak, ADL Co-Laboratory, University of Memphis, USA

Griff Richards, Simon Frasier University, Canada

Riina Vuorikari, European Schoolnet & K.ULeuven, Belgium

Martin Wolpers, L3S and K.U. Leuven, Gemany and Belgium

Please see the Call for Papers for details.
Deadline Call for Papers:
04. 07. 2006
Attachments: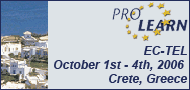 News
First Latin American Conference on Learning Objects - LACLO 2006 [ read more ]
International Conference on LEARNING COMMUNITIES [ read more ]
Workshop on contextualized attention metadata (CAMA2006) [ read more ]
PROFESSIONAL TRAINING FACTS 2006 [ read more ]
IST 2006 conference in Helsinki [ read more ]
[ more news & events ]
Search for learning objects