Research Activities
Internal Area

Research Areas
7 research areas for the first 18 months
The PROLEARN team has identified the most relevant research fields in the area of technology enhanced professional learning:
Personalized Adaptive Learning. Personalization is a key aspect in advanced technology enhanced learning environments to support ubiquitous, experiential and contextualized learning and virtual collaborative learning communities.
Interactive Media. E-Learning can provide a much more interactive experience for the professional learner than the traditional book or training lecture. Learning is an interactive and constructive process and therefore has to aim at learning experiences that leverage the learner's interactions.
Online Experimentation. Active working with artefacts and problem solving helps learners to acquire applicable knowledge that can be used in practical situations. Active learning by means of virtual and remote laboratories aims to provide distance education students and professional learners with hands-on experiences without the need to leave their workplace and travel.
Learning Objects, Metadata and Standards. In recent years, research has focused on the notion of reusable multimedia content components, called "learning objects". Reuse of such components can lead to important savings in time and money, and enhance the quality of digital learning experiences.
Brokerage Systems and Learning Management. Today's technology enhanced learning landscape is characterized by a huge number of heterogeneous content and service repositories. The existence of brokers or marketplaces, which integrate the existing repositories and thus create completely new services, would be extremely beneficial. This benefit is especially clear for (small and medium) enterprises whose success relies on a workforce educated to the best-possible standards.
Business Models, Processes, Markets. As the demand for access to E-Learning services is growing rapidly, it is increasingly important that sustainable business models emerge for market players, such as service providers, users, policy makers and market regulators. Extending technical infrastructures and pedagogical innovation with a focus on economic feasibility, commercial relevance, usability and educational benefits, is a key success factor to enhance the competitiveness of the European E-Learning industry.
Knowledge Work Management. European companies depend more and more on their intellectual properties than on their physical assets, often specializing in knowledge intensive products. We are targeting work processes as enablers for professional learning, and aim for learning arrangements taking into account both knowledge workers, organisational processes and appropriate infrastructures.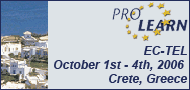 News
Workshop on Ubiquitous User Modeling (UbiqUM'06) [ read more ]
Knowledge Sharing in Research an Higher Education [ read more ]
I-KNOW 06 - 6th INTERNATIONAL CONFERENCE ON KNOWLEDGE MANAGEMENT [ read more ]
Process-oriented Learning and Knowledge Work [ read more ]
Process-oriented Learning and Knowledge Work - [ read more ]
[ more news & events ]
Search for learning objects